Most business professionals are attracted towards companies that have great potential both near and long term. Whether you are an investor, stockholder, potential customer, or vendor / supplier, that company you have or are considering a relationship with must be attractive.  That means you want that company to use the top 5 traits hiring managers want to see in reviewing applications, resumes, and in interviews. After all, recruiting the right talent with the skills that will contribute to the relationship success is what you desire.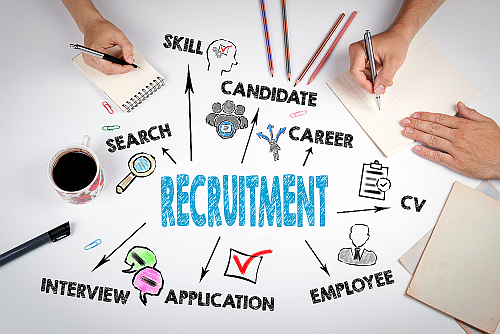 When it comes to recruiting, Hiring Managers have a definite advantage over the Human Resource department as they know their team's needs, have a daily / weekly relationship with members of their team, and can better perceive the value in terms of potential to be a part of their organization.
There are many jobs available, but the competition is fierce.  For instance, a Quality Manager will likely have a bachelor degree in Business and sometimes a High School education applying for a role with a custom label or packaging printer.  But this means you fail to stand out among peers.
So having a BS technical degree and an MBA will help.  But even more so is that you can demonstrate on both your resume and in more details in an interview how you have BOTH the SKILLS and ACCOMPLISHMENTS to meet the objectives of the role AND have acquired additional business skills beyond your degree and your credentials.
Top 5 Traits Hiring Managers want begins with Communication Skills
Relational Communication Skills
In almost every role you have worked, being articulate is a top skill that employers seek in their candidates. Effective solutions, innovative concepts, and new techniques may not do any changes when you cannot get your ideas into words to relay to your bosses, managers, and colleagues.  One of the top 5 traits Hiring Managers want in candidates is relational communication skills – the ability to be an attentive listener, sell your ideas, organize both orally and visually, and receive freely criticism and opposing ideas.
Employers need people who can explain what others are talking about and arrange these thoughts, ideas, and concepts in a comprehensive manner.  For instance, a production supervisor must be able to interact with press operators, answer their related questions and direct them to company goals and objectives in the plant.
Interpersonal Relationships and Social Skills
Working in almost every business environment, sans lab rat / test engineers, means that you will be working and interacting with people. Communication does not only mean relaying what you want to express through words, but through your actions as well. Most, if not all jobs require their candidates to have effective social skills to interact efficiently with their colleagues, clients, suppliers, and bosses. Working within teams needs competent social communications that can maximize productivity and resolve issues. Knowing when to engage in interactions that is either casual or professional with colleagues and clients, because social skills is also one of the top 5 traits Hiring Managers want their employees to have.
Organizational Traits and Skills
Everyone wants to be known for being efficient and transparent. That means having organizational traits that showcase efficient scheduling and time management, coordinating resources, and effective task designation. When you follow organization, it is easier for manager and team to know and understand not only how you work, but what your expectations are in the performance of the team you may be managing.
Finally, one of the key traits you must ask yourself is can you complete projects and meet deadlines?  Using time wisely makes all the difference between success and failure of not only you and your team, but your company.
Decision Making and Problem Solving
It does not matter whether you are a GM, Supervisor, press operator or rewinder, you still need to demonstrate that you have the capacity to not only identify problems, but solve them as well.  Critical thinking requires basic analytical skills.  Those employees who succeed can see beyond the information presented, analyze, and make a recommendation to your manager or make the decision yourself as to the course of action to take.  There may often better ways to solve any problem including my favorite – that hadn't been tried yet previously.   Problem solving helps us make decisions amidst challenges.
The Top 5 Traits Hiring Managers want is based on Motivation
Motivation Traits = Success
Motivation skills are important when interacting with colleagues, managers, investors, and customers.  People do better when they love what they are doing. Being properly motivated is a TWO-WAY street.  Hiring Managers must provide the work environment, tools and fixtures, safety, and compensation that motivate you.  If they do that, your own motivation contributes to their organization's goals and success as well as help you cope with stress and handle issues that may arise in the workplace.